Grease on a roof can put you on a slippery slope toward leaks, expensive repairs, voided warranties, unsafe work areas, fire hazards, and lawsuits. Sometimes, it causes local fire authorities to fine building owners or tenants and shut them down.
Chances are you have a food court or other food type tenants. Have you seen a grease fire or damage that grease can do to roofing? Do the tenants' exhaust fans only have small grease cups? Is this grease cup rainproof?
We've been on many roofs over the years and the pictures below reveal a common trend throughout many of our visits. These actual job site photos clearly illustrate what happens when tenants do not perform regular grease exhaust fan maintenance or provide a roof protection system around the fans. You can clearly see the hazards that exist in the photo on the left, and the black circle in the photo at the right shows roof damage.
The damaging effects of grease or oil on the roof shorten its life and increase the likelihood for premature roof repairs and replacements, costing building owners thousands of dollars. The best way to protect a roofing system is to prevent grease from ever reaching the membrane.
When fatty acids from cooking fats, oils and grease come in contact with a roofing system it causes most roofs to soften, delaminate, blister or crack depending on the specific roof material. Fatty acids from grease void most roof warranties, and roof replacements are expensive. Pooling grease and its runoff into the storm sewer presents an environmental problem and potentially costly fines. Grease and oil can cause other problems, as well, such as fall hazards for rooftop maintenance workers and an increased potential for fire. Also, fire inspectors can close your business if they find excessive grease on the roof.
Due to the harmful effects of grease and oil on many roofing systems, most major roofing manufacturers will recommend or specify a UL-­listed grease containment system for areas that will be exposed. They will not extend a blanket warranty on a roofing system that has known grease and oil problems.
In August 1998, numerous changes were incorporated into the National Fire Protection Association 96 Standard for Commercial Cooking Operations. Rooftop terminations are required to have the ability to drain grease out of any traps or low points formed in the fan or duct into a collection container that is noncombustible or will not sustain combustion, closed, and rain proof. A grease containment system that is not rain proof will capture water as well as grease in its catch box, eventually overflowing onto the roof. This may cause a fire hazard as well as roof damage. Rain proof systems offer several options, including a baffled box similar to a grease interceptor and a media-­filled box that retains the grease and filters the storm water.
One approved system is a fire resistant self extinguishing fiberglass filter that lies on the roof surrounding the grease fan on four sides, as shown in the photo below. The system has a fireproof barrier underneath the filter that will protect the roof and building from potential exhaust system fires. An anodized aluminum frame holds the filters in place. The grease filter will repel rainwater and absorb the grease in its multi-layer design.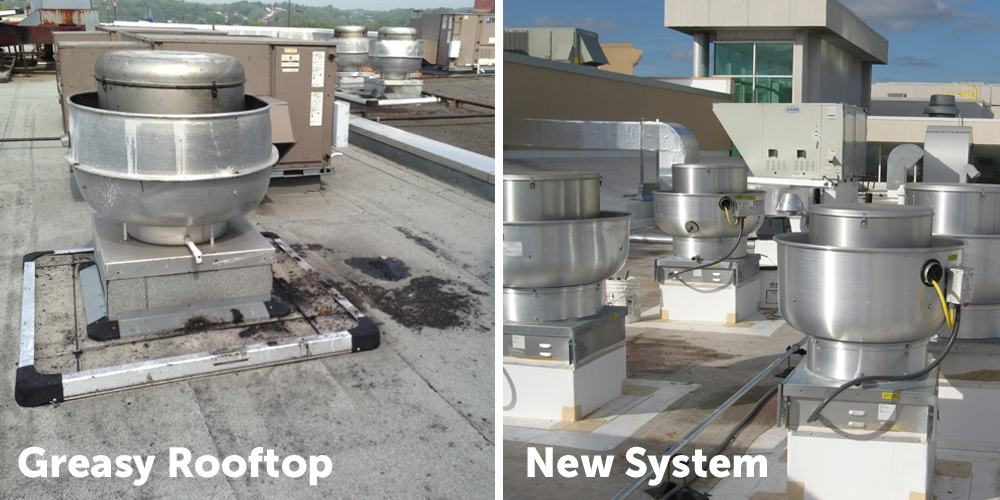 ANY type of roof grease containment system still requires regular inspections and maintenance. The frequency of the inspections and maintenance depends on the type of tenant and the volume of grease exhausted.
To avoid unnecessary liabilities, rooftop safety hazards, and code violations, require grease retention/containment system around grease exhaust fans.
For information about this topic, or for more MEP Design guidance, contact Mike Ruff at TES Engineering.